Lake of the Ozarks Entertainment - Sax Man Michael Byington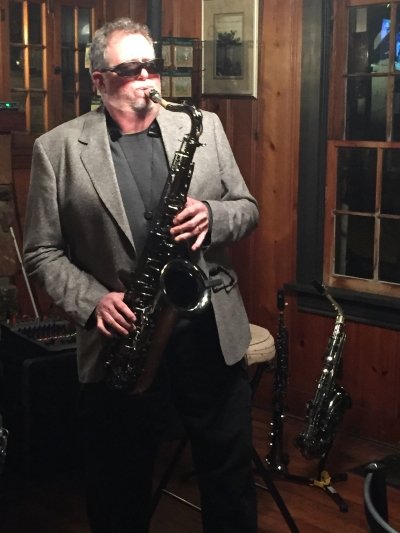 Sax Man, Michael Byington, has been playing sax for more than 4 decades. Born in St. Louis, Michael's love for good music began at an early age when his dad would listen to Boots Randolph albums. Because of Randolph's influence, Michael began saxophone lessons in 4th grade.
In high school, he joined the Jazz Band and found his musical niche. It was also around this time that Michael was diagnosed with a degenerative eye disease that would cause him to gradually lose his eyesight. However, instead of becoming discouraged, his passion for the sax remained strong. Although reading the music was getting to be more difficult, he continued to practice and play. Eventually, Michael and his guide dog, Sam, attended classes at Webster University where he studied in the Jazz Program.
Michael started performing professionally over 30 years ago. His expertise and musical prowess have accentuated bands of many genres, including Funk, R & B, Blues, Rock N Roll, Retro '50s & '60s, Jazz, Country, & Christian. Michael has recorded 2 CDs of his own. 
He has also done studio work for many other musical artists. In St. Louis, his band, "Code Blue", played the bi-state metro area, plus they aired on the K-SHE morning show. He has shared the venue with acts such as Rare Earth, The Greg Kihn Band, Phil Driscoll, and Darrell Evans.
Michael moved to the Lake of the Ozarks nearly 20 years ago. In that time, he has performed with many local musicians at several of the clubs and restaurants in Osage Beach and Camdenton. Michael currently does a solo act using accompaniment tracks and providing a wide variety of musical entertainment including pop and rock, jazz standards, a few country classics, and his favorite, contemporary smooth jazz.
So, if you are in the mood for something out of the ordinary, come relax and experience the sounds of the Sax Man. Michael's passion for music is evident through his saxophone, he plays from his heart. You are sure to enjoy his audio art for the soul.
Copyright (c) 2023, Michael Byington. All rights reserved.